While I have several outfits in the costume section of my shop, many of my fashion designs will work for your halloween costume too!  Here's 5 ideas for a latex halloween!
1.  Maid
I've got a couple dresses that would work for a maid outfit.  The uniform dress at the top of the page in black with white trim is a great place to start.  It just needs a white apron, add a feather duster, and you're ready to go!
My Two-Tone Skate Dress works for a maid dress too: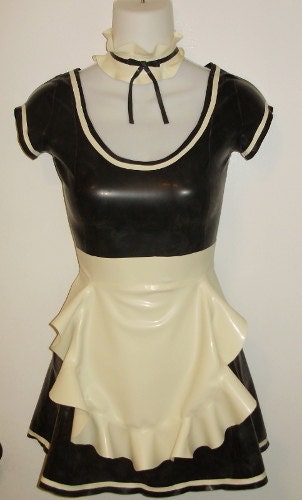 Made all in black, the fitted dress just needs a frilly apron and a custom choker to make a cute costume.  The custom white trim is available upon request for no extra charge--just leave a note in the comment box when you place your order!
2.  Mortal Kombat:  Jade, Kitana, or Mileena
Release your inner ninja!  My Halter Bodysuit would make a great start to a Mortal Kombat themed costume.  Order it in Metallic Green for Jade, Metallic Blue for Kitana, or Metallic Purple for Mileena.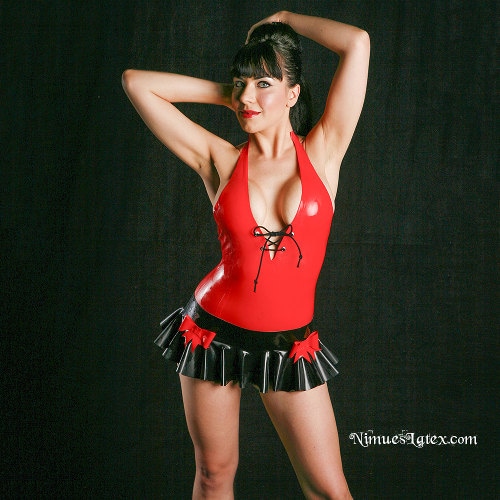 Add some Super-Hero Stockings and a pair of fingerless gloves and you're ready to FINISH THEM.
3.  Jessica Rabbit
She's just shiny that way :)  This one is easy, especially for you redheads!  Take one of my sheath dresses in red, and add a pair of purple fingerless gloves.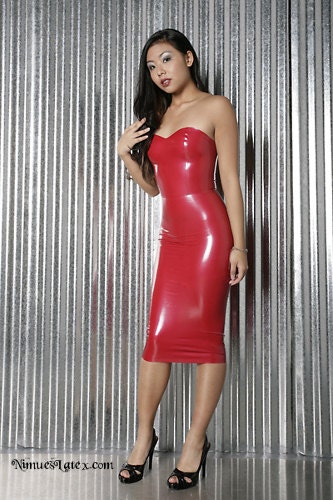 4.  Sexy Storm Trooper
This one was suggested by a customer!  Take one of my two-tone outfits, like this lace-front crop top and mini skirt, but switch the pictured colors so that white is the main color with black on the sides.  Now you just need a helmet and you're ready to join the dark side.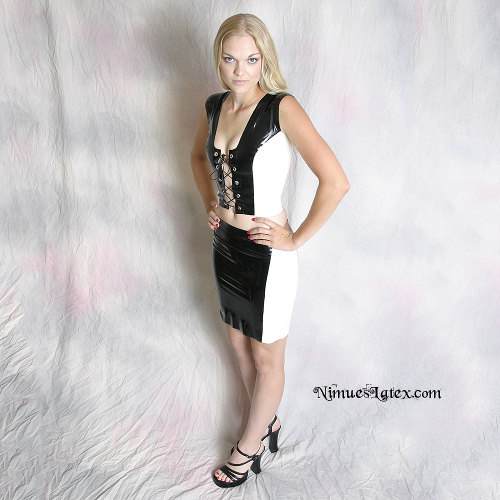 5.  Classic Star Trek Officer
Kirk, Spock, McCoy and company favor long sleeve shirts in yellow, blue, or red, and long black pants.  Just leave a note in the comment box asking me to move the zipper to the back of the shirt, and then you're ready to explore the galaxy.  I can even add the little Star Trek logo to the front for you!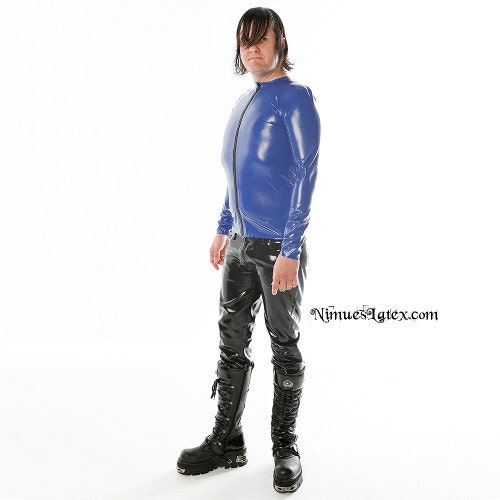 Modeling Credits:
Top Image:  Summer Kay
Halter Bodysuit:  Miss Manders
Sheath Dress:  Summer Kay
Two-Tone Outfit:  Michelle
Long Sleeve Top:  James
All Photos by Rodney San